Interested In Supercharging Your Online Marketing Strategy?
WANT TO GENERATE MORE BUSINESS LOCALLY? THEN A STRONG GOOGLE MY BUSINESS STRATEGY IS A MUST. DONE PROPERLY IT CAN BE ONE OF THE BEST AND MOST AFFORDABLE WAYS TO GROW YOUR BUSINESS.
ARE YOU READY?
We Can Help Your Business
Succeed Online
Get Found Online
Get Optimized on GMB
80% OF BUSINESSES TODAY GET AN "F" BECAUSE THEIR GOOGLE MY BUSINESS IS NOT SET UP RIGHT. MEANING, THERE IS A HUGE OPPORTUNITY FOR YOU TO
DOMINATE
AND GROW YOUR BUSINESS ONLINE, TIMING IS EVERYTHING AND GOOGLE CHANGED THE RULES IN 2020, ARE YOU READY?
IS GOOGLE MY BUSINESS IMPORTANT FOR LOCAL SEARCH? YES, ABSOLUTELY YES!!!
Name one place online where most people search for a local business.
Google hands down, because it is one of the main search engines people go to first to locate local businesses from their desktops, Phones or Tablets. Think about it, Google owns over 80% of local business searches and has really focused on local business search results over the last few years.
Google My Business (called "GMB") is the core platform Google uses to determine how and what is shown about your business online, so setting your GMB account up properly is crucial to your success in local markets. So, you list your business on GMB for FREE, after you verify your business you are eligible to appear in local searches. Getting set-up properly on GMB is so important because users that are searching on Google, Google Maps, Voice Search, and Google Assistant will only find you if you are set up and optimized on GMB. Meaning you are more likely to be highly visible online and to everyone searching with the right GMB optimization. We make sure your GMB is optimized for your business listing to get the best results, bring you more traffic and business.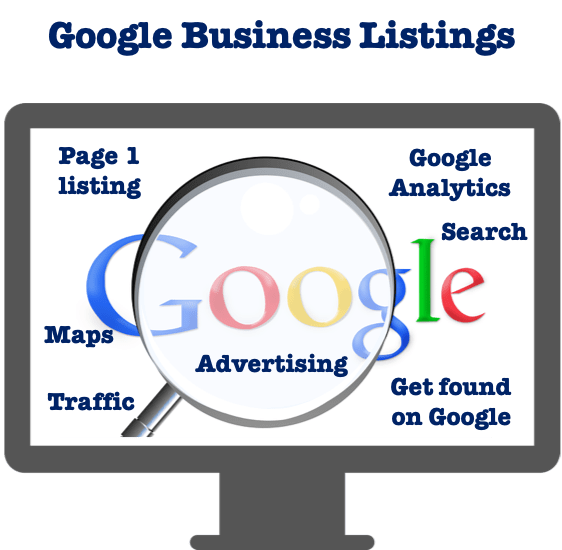 Convinced Yet?
More reasons you need your GMB set-up:
#1 The Local-3 Pack, Map Pack, Snack Pack is POWERFUL :
Have you noticed there are up to three businesses listed below the pay-per-click ads on the google search pages and above the top listings? This is huge and a sure way to attract local business and even dominate locally if you can get one of those 3 spots. Now this is super important, unlike the pay-per-click ads, the Local-3 pack "Snack Pack" is based on Google My Business optimization, Google Reviews and other ranking factors. Do you understand how powerful this is if you know how to optimize your GMB page! This pack will show the three most relevant businesses for the keyword searched by the user. Think about it, if your business is there on the Snack Pack, you will get up to 7 X's more clicks than those which are not in the top 3. At Digital Nest we know how important this is and one of the best things we focus on with our clients is making sure their GMB are optimized. Our team knows how to leverage the power of the Snack Pack pack to increase your businesses visibility to help drive more traffic that convert into leads and new business every single month.
#2 Google Map Searches:
When the users search for goods and services or a specific business in their local area, Google will show them the most relevant results based on how they searched. The shown results are based on the user's location and their proximity to the business address. If your business is listed on GMB with all the correct details your business, you will get new traffic, viewers and high quality leads. Adding your phone number and location on it will further increase the chances of new opportunities. More people know about your business, better will be the engagement. So when 93% of buying decisions are taken with Google's help, your listing is the key to your success.
#3 Build your Reputation and Get Reviews:
Remember, potential clients trust businesses with reviews, Star Ratings (you don't need to be perfect). Getting reviews are important for a business to rank higher and build authority online and with GMB. Google makes it easy for you to rank, but it does require work and expert insight helps. When you are listed on GMB properly, you will start to get more traffic. Moreover, the fact that consumers trust Google to provide the best results, your business if it is listed on the local-3 pack or even if it shows on the map makes a big difference. Plus, if your existing customers will give you ratings and reviews, it will surely amplify your optimization and bring you up on the ladder. It all works in a cycle, customers trust Google >>> you add your business to GMB >>> increase in customer engagement and building of trust >>> customers give stars and reviews >>> improve in google ranking >>> greater number of customers will trust you.
#4 Improve your business targeting:
The first step to further improve your business and performance on the web is knowing whom to attract more. To do that you can use GMB's insights. This section will tell you all about your customers, who they are, where they are approaching from. All this will help you recognize how you can best target these customers. Plus, this can also help you identify which tweaks in your GMB or other advertising platforms are working for your benefit and which are not. The more you know, the better.
#5 Make Google like you:
The reason Google has reduced its local-7 pack to local-3 or Snack Pack is to give the mobile users a better experience. To get into the top 3 Snack Pack, you need Google to like you and optimize your listing. To do this, ensure that you have given all the information to Google. Because Google loves authenticity and to forward the right information to the users. Thus, the more you tell Google about your business, the more it will like it and share it with the users.
#6 Advertise on GMB is Free:
You have an option, instead of paying money to advertise your business with Ad Words, pay-per-click etc., you can also focus on optimizing your GMB service and even rank higher than using paid ads for FREE. Once you verify your identity and your business you will start getting exposure on Google. Then, you can make changes to optimization your GMB.
In summary, Google is a MASSIVE resource. Do not just stick what you see on the surface. Instead, explore it a bit, analyze what you can use to your benefit and then leverage its uniqueness for your benefit. There are many ways to outrun your competitors. Be active with your GMB start building your authority.